My Name is Bruce.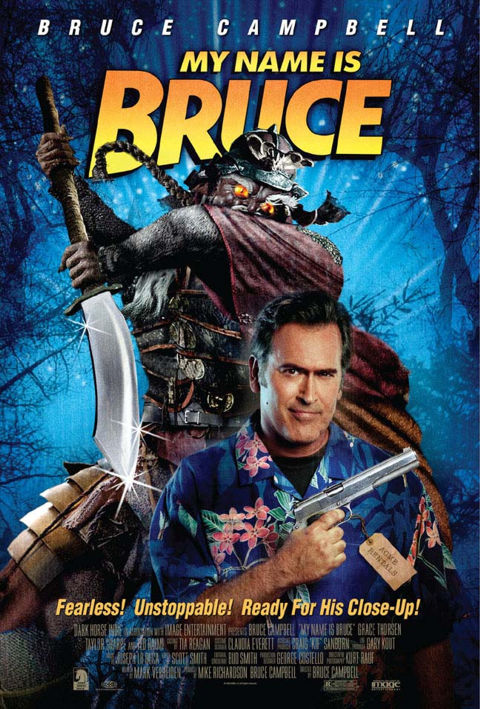 Bruce Campbell channels (or attempts to channel) his
Evil Dead
alter-ego in a comedy-horror movie about himself as himself, called to a small Colorado town called Gold-lick by a B-movie geek who thinks that doing it in the movies has prepared Campbell to be a master monster hunter. His mission: to defeat the evil demon and Chinese god of bean-curd Guan-di. Hilarity ensues. Mostly in the special features.
Quotes:
Bruce: "Dig up a bar of soap and a bottle of Jack. And not in that order."
Bruce: (after throwing a container of bean curd at Guan-di) "Well, it's good to know that tofu really is good for your health."
Bruce: "Where in the heck did you find this Evil Dead shampoo?"
Jeff: "Bruce, that's drain cleaner."
Bruce: "Well, I guess that would explain the burning sensation."
And after seeing that, I
had
to watch
Army of Darkness
again.
A regular joe (Ash), a clerk at a local grocery store chain called S-mart, is transported back to the 14th century in an undisclosed English castle by the Necronomicon, a book of pure evil written by the ancient Sumerians, inked in blood and bound in human flesh. There he must make his modern sensibilities work in tandem with the primitive ways of the people of the Castle, who all speak really poorly written Shakespearean English. He will fight the deadites one last time with a chain-saw, trusty "boomstick", and an arsenal of one-liners.
Quotes:
Ash: "lright you Primitive Screwheads, listen up! You see this? This... is my
boomstick
! The twelve-gauge double-barreled Remington. S-Mart's top of the line. You can find this in the sporting goods department. That's right, this sweet baby was made in Grand Rapids, Michigan. Retails for about a hundred and nine, ninety five. It's got a walnut stock, cobalt blue steel, and a hair trigger. That's right. Shop smart. Shop S-Mart.... You got that!?"
Duke Henry: "You Sir, are not one of my vassals... who are you?"
Ash: "Who wants to know?"
Duke Henry: "I am Henry the Red. Duke of Shale, Lord of the Northlands and leader of its peoples."
Ash: "Well hello Mister Fancypants. Well, I've got news for you pal, you ain't leadin' but two things, right now: Jack and shit... and Jack left town."
Ash: (the secret words that will summon the necronomicon) "Klaatu varada nikto!"
Ash: "Maybe. Just maybe my boys can protect the book. Yeah, and maybe I'm a Chinese jet pilot."